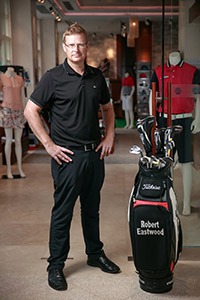 Our British P.G.A Professional has 25 years experience in teaching and playing at a high standard he has worked with a wide range of students from all walks of life young and old and helped each person achieve good results.
The main focus of his teaching theory is to work with each person's individual capabilities and create a personal package to suit their needs. This is the only way to guarantee improvement among the amateur golf game.
Rob started playing Golf at the age of 10 years old with his first set of clubs, which were purchased for £50 advertised in the local newspaper. He then was mentored by an elderly Gentleman of 82 years old Mr Jim Wilkinson, for two years in his Back Garden learning how to swing hitting into a Coal sack on a steel frame as a golf nett and chip and putt on his lawn. Rob then went on to be a junior member at the local golf club were his yearly membership was £35 and joined the junior section until he turned professional at the age of 17. He then undertook the 4-year development programme of the British P.G.A and qualified at his first attempt. During this time he learnt he had a passion for swing theory and mechanics and followed this aspect in his career.
He has worked in mainly in the U.K from 1992 – 2011, among his highlights he worked with a lot of the Manchester United football team and Directors teaching them Golf and Numerous well known British Television and Film actors. Then in 2011 embarked on a career in China where he has learned a good level of Mandarin and continued to gain valuable experience.

For those of you who require translation in lessons Rob has a fully trained translator on hand to deliver a Professional and enjoyable experience.
Video analysis is available on request and club fitting service in association with Titleist.
Re-gripping service available.
Rob is available for lessons by appointment 7 days a week and his contact details are below.
Tel: 13410748684
Email: robeastwood@xiligolf.com
Happy Golfing!